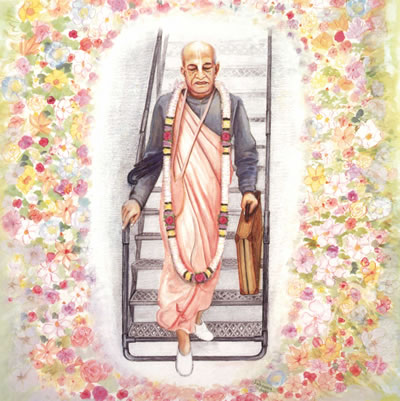 By Kesava Krsna Dasa
Is this a daring and overconfident claim? It seems to be an assertion of finality on the fall / no-fall issue. Does this risk jumping over Srila Prabhupada and our previous acaryas? The discussions on this matter continue to produce no outright winners of the debate. Such finality may 'bore' the philosopher within us, but we cannot deny its profoundness.
Who does not want to know their true origin? Ancestry firms help people trace their family lineage and possible place of origin through birth-given names. By providing one's DNA sample one might learn of more interesting information involving genetic links to ancestors going back thousands of years. We can be forgiven if this natural curiosity spills over onto the spiritual frontier.
The curiosity debate about where we originate can be impulsive however. We can convince ourselves of being right simply by quoting authorities like Srila Prabhupada and previous acaryas. This is where the problem lies. It is not that what they say on the matter is the problem, but it is how we quote one authority or another and claim finality, is the problem.
As followers of Srila Prabhupada, we should ideally rest our case with him. This can be a 'problem' because he says that we fall from the spiritual world and were with Krishna, and he says that we never fall – both of which are not a problem. Srila Prabhupada is agreeing faithful to our previous acaryas and giving his own realised perspectives on the matter – both are right. We make it a problem.
Quoting Srila Prabhupada one way or another and then claiming finality or victory is a problem. Both sides will be legitimate and right, so why does the debate continue? What do we hope to achieve by proving that another is wrong when in fact they are right? Many devotees also agree this is a problem and so avoid philosophical adrenaline rushes.
If we cannot get distinct finality from Srila Prabhupada, although it is already there, and we cannot quote our previous acaryas because of variance in explanations according to time, places and circumstance, whom do we turn to?
We turn to Sri Chaitanya Mahaprabhu the original teacher of our previous acaryas, in particular His Sri Siksatakam. Have any of us noticed how Lord Chaitanya is seldom, if ever referenced from His eight prayers covering all levels of devotional progress from beginning to Krishna-prema? And the Lord does mention the fall of us jivas (Verse 5).
"O son of Maharaja Nanda [Krishna], I am Your eternal servitor, yet somehow or other I have fallen into the ocean of birth and death. Please pick me up from this ocean of death and place me as one of the atoms at Your lotus feet."
What is very interesting is that the same rudimentary human curiosity is mentioned in the fifth verse describing the advanced level of Ashakti, which Srila Prabhupada usually defined as "Attachment." Considering that this attainment comes just before the extremely rare attainment stage of Bhava, we can reasonably ask the question, "What is this basic 'fallen' reference doing way up there on the Ashakti level?"
First, we can see why this can be "boring" for us budding philosophers. Lord Chaitanya, humbly taking our human role admits, "I have fallen into the ocean of birth and death." Here we can see Srila Prabhupada's Tal fruit analogy come to life. How does the Tal fruit (jiva) fall? "…Yet somehow or other…" says the Lord.
The omniscient Lord knows our argumentative tendencies and accommodates both the fall / no fall standpoints ad infinitum with "yet somehow or other." He is saying that we have "fallen" here into this world, yet some of us choose to debate it. "Keep it simple…and be deeply attached to Krishna" is His message. Is this sufficient to end the debate? What is the "profound" import of the verse?
Lord Chaitanya always wishes He could do more for His Lord (Krishna). He laments His inability to chant the holy names. He continually cries because He can never get to see the Lord, even if momentarily – it is never enough on the prema platform. In the same way, the Lord is begging from the Ashakti level, "Please pick me up from this ocean of death and place me as one of the atoms at Your lotus feet."
When Ashakti matures into Bhava, the first sporadic visual glimpses of Lord Krishna, the personification of the holy name appears within one's heart. This is the same as, "…and place me as one of the atoms at Your lotus feet." How is this relevant? Is there any proof of this correlation? "Please pick me up from this ocean of death…" correlates with the growth of our devotional creeper:
""As one waters the bhakti-lata-bija, the seed sprouts, and the creeper gradually grows to the point where it penetrates the walls of this universe and goes beyond the Viraja River, lying between the spiritual world and the material world. It attains brahma-loka, the Brahman effulgence, and penetrating through that stratum, it reaches the spiritual sky and the spiritual planet Goloka Vrrndavana." (CC Madhya 19.153)
When Lord Chaitanya prays, "…and place me as one of the atoms at Your lotus feet," we may symbolically liken this to having our Bhakti-creeper placed at Krishna's lotus feet, but it is a factual form of progress. Nature operates differently on the spiritual plane:
"Being situated in one's heart and being watered by sravana-kirtana, the bhakti creeper grows more and more. In this way it attains the shelter of the desire tree of the lotus feet of Krishna, who is eternally situated in the planet known as Goloka Vrndavana in the topmost region of the spiritual sky." (CC Madhya 19.154)
Srila Prabhupada further elaborates: "There the creeper takes shelter at the lotus feet of the Lord, and that is its final destination. At that time the creeper begins to grow the fruits of ecstatic love of God." (CC Madhya 19.155 purport)
On several occasions disciples would ask Srila Prabhupada about the symptoms of say, perfected yogis, pure devotees or of those who perfect their chanting of Hare Krishna. To these type of enquires he would encourage such questioning devotees to simply take Krishna consciousness seriously, then one shall eventually know these things.
Sometimes the same sort of questions would vary, leading to, "How do we know if we are making spiritual advancement…or, how can we tell if our chanting of japa is succeeding?" Srila Prabhupada would sometimes refer to the example of a hungry man Knowing he is getting relief and satisfaction simply by the act of eating.
In relation to the same Siksataka fifth verse, Lord Chaitanya is teaching us the same Knowing principle given by Srila Prabhupada. Those who choose to argue over whether we fell, or did not fall from the spiritual sky can be compared with the hungry man – there is a constant hunger to Know the answer about our origins.
But Lord Chaitanya is also indicating that we cannot possibly Know the answer until we reach the level of Ashakti and beyond. When we are qualified to get these glimpses of Lord Krishna, we shall also Know something of our original spiritual position. As explained previously, spiritual nature functions differently from our gross experiences of matter.
Around the time of reaching the juncture of Ashakti and Bhava, there is a descent of Cit-shakti or the revelation of causeless spiritual knowledge. This knowledge likewise functions differently from acquired knowledge and learning. Such Cit-knowledge can be expansive and instant. Do we remember how Dhruva Maharaja received such Cit-shakti thrpugh being touched by the conchshell of Lord Vishnu?
Lord Chaitanya is indirectly saying to us, "First come to this Ashakti / Bhava level and then you will understand…do not worry about how you came here, but pray to be attached to the lotus feet of Krishna…" This mirrors how Srila Prabhupada would answer similar questions of this nature. This can be an austerity for our curiosity.
Simply to focus on how to get out of this world might seem a type of limitation to our ability to think freely about such things and to debate them. It might also create an impression of encouraging over-simplicity. Both these objections are the product of impatience and branched intelligence. It requires great natural focus, through krpa (mercy) to attain the Ashakti stage.
Such simple focus is actually a symptom of healthy intelligence – one has to be intelligent to be truly simple and focused (BG 2.41). Lord Chaitanya is demonstrating patience and simplicity and then the answers to our origins will be revealed through Cit and Krpa. Until such a time, it might be more useful and within our grasp to know what a Tal fruit is.
Ys Kesava Krsna Dasa – GRS.